Community Info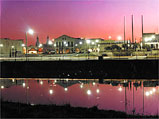 Iberia Parish, in the heart of Cajun country, is a great place to live, work and play. You'll find beautiful tree-lined neighborhoods, lots of sports and cultural activities for the children and plenty of things to do in your free time. You'll have top quality schools and health care with the parish's 34 public, parochial and private schools, a community college and one general acute-care hospital.

There are lots of fun festivals throughout the year that celebrate everything from figs to alligators. New Iberia is the home of the Louisiana Sugarcane Festival and the famous World Championship Gumbo Cook-off. There are several beautiful public parks and nature reserves for camping, picnicking, hiking, fishing, swimming, hunting and water sports. Both the city and parish public parks and playgrounds have year-round organized sports for children and adults along with summer day camps filled with lots of summer fun.
One of the advantages of being located in the heart of Acadiana is the access to a wide range of entertainment and activities. There are gardens, lakes and wildlife, including a nearby zoo. Watch ice hockey and college sports, or go to the racetrack or land-based casinos. Acadiana has many cultural museums and concerts, and of course, great Cajun food.